Deluxe Romantic Tour
$179.49
Description
Travel back in time while seeing the major sights on a horse-drawn carriage through the heart of Melbourne. Horse and cart was once the only means of transport in this cosmopolitan city, and today provides the perfect leisurely pace for taking in all that Melbourne has to offer.
Dressed in traditional attire, our friendly coach drivers and prestigious carriages await you at Federation Square. Our tours run from early afternoon until well into the evening. Perfect for a special occasion or just for something different, you will not be disappointed by the simple beauty of this mode of transport.
We guarantee your total satisfaction with our 30 years of experience and as a recipient of a Lord Mayor's Commendation for the City of Melbourne. See below for more information, including sights on the itinerary, booking and contact information.
Duration: 60 minutes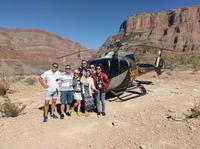 City: Melbourne
Country: Australia
IATA: MEL
Average Rating: 5.0 http://www.partner.viator.com/images/stars/red/17-5.gif