Malyovitsa Peak Snowshoeing Tour (2729m)
$184.31
Description
Experience one of the most majestic peaks in Bulgaria – Malyovitsa!
With its impressive height of 2729m, it gazes over a beautiful valley which we will cross on our way to the top. The entire area has an important significance for Bulgarian climbing, mountaineering, and skiing. Mostly visited by locals it is a very well kept secret for the majority of foreign tourists. Malyovitsa has a particular authenticity and a special Balkan vibe.
We will start our ascent from 1700m and continue to Malyovitsa Hut where we will stay overnight. The next day we will make our way towards the peak.
Join us on an exciting snowshoeing adventure in the northwest of Rila mountain, Bulgaria!
Duration: 2 days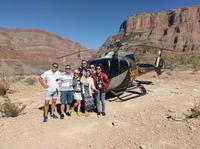 City: Sofia
Country: Bulgaria
IATA: SOF
Average Rating: